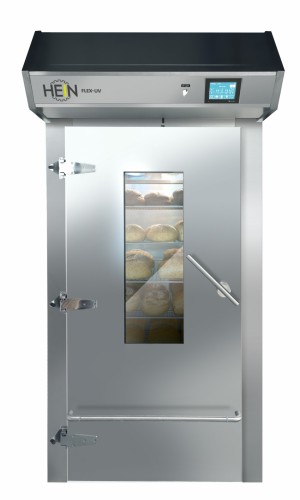 FLEX-UV
WARM BREAD THROUGHOUT THE DAY

With FLEX-UV, you have a reserve of pre-baked bread

 
The FLEX-UV storage cell allows the baker to 80-% pre-bake his full range of bread and keep it for several days. No risk of drying out thanks to an ingenious humidity management system with any possibility of mould formation eliminated by the integral UV lamps.

The whole process is controlled by an innovative software package controlling 200 different fan speeds, PID (Proportional, Integral, Differential) feedback control, precise and even control, according to the required air humidity, of heating and cooling and the adjustment of the horizontal and vertical air guides.

All this guarantees optimum climatic conditions; no drying out, improvement of the structure and development of the taste and savour.
---
Advantages
Great flexibility
Better development of taste and savour
Reduced transport, optimised yield
Pre-baked products for final baking at the point of sale
(simplified and reliable storage for periods that can extend to several days)
Freshly baked products throughout the day
---