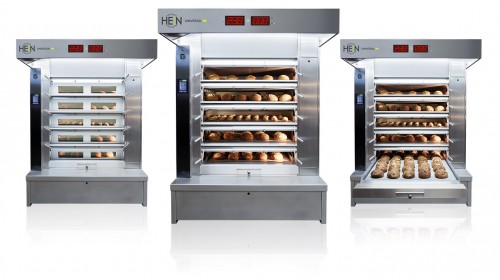 The reference, annular tube oven with an all-masonry herarth an real 22 mm thick stone plates
(Baking surface: 2,9 - 41 sqm)
The HEIN-UNIVERSAL PLUS is an oven heated by an annular tubes system integrated into an all-masonry hearth. The oven stands on the floor without needing any foundation. Each annular tube is filled with water at masonry hearth level. Without a pump and operating without noise, steam is spread uniformly to every level. The specific heat of the annular tube oven guarantees perfect and regular baking. On option, we can equip the HEIN-UNIVERSAL with a computer to control the baking process fully and make the oven 100% compatible with our automatic HEIN-SPIDER loading and unloading system.

HEIN UNIVERSAL ANNULAR TUBE OVENS:
 
Clean energy, cutting edge technique and easy handling.
---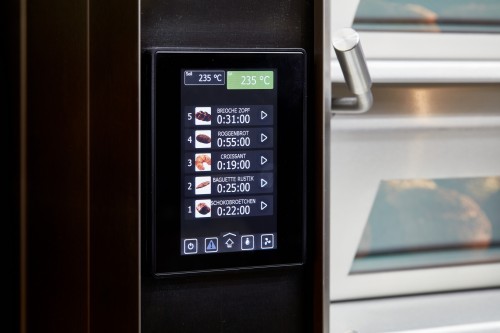 TOUCHMATIC - the new touchscreen control
A new chapter in the control programming technique!
Night start time, temperature profile, baking time, steaming time for each deck, Hand-and Software logbook, the new HEIN touchmatic controls all necessary settings.

Several ovens can interchange information in a network or be controlled and monitored remotely (e.g. via PC or an oven configured as the master). If there is no network, the preset cooking programmes can be transferred from one oven to another by using a simple USB stick.
The extremely easy use and synopsis are made possible by a Windows-based control panel, as well as the advantages of a very large touch-screen (5"; 8.4" available as an option).

The baking programmes (299) and temperature curves
are stored and displayed in the form of bar charts and line diagrams. All data of the baking processes are stored.

A remarkably faster and more efficient service is made possible by protocolling any baking errors, deviations from the programme or errors in the hardware. The regular servicing periods are indicated automatically.
---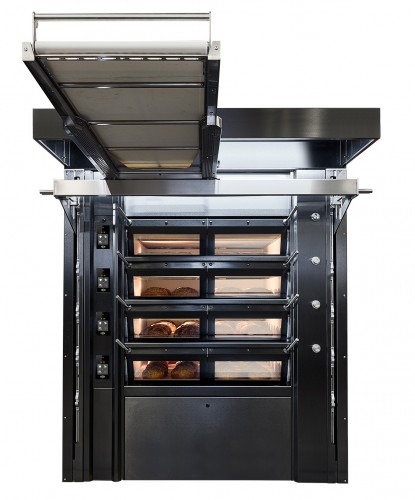 HEIN LIFTMASTER- The integral oven loader/unloader
Load with:
complettely clear floorspace in front of the oven
free access to the shelves in both height and width
user-friendly and safe handling from both sides
loading and unloading easy on the back
aesthetically pleasing design, intergral wih the oven
ease of maintenance and cleaning
Some advantages:
Technical and safety aspects inspected by the German TÜV
All visible parts executed in stainless steel
Free from hard-to-clean corners
---
---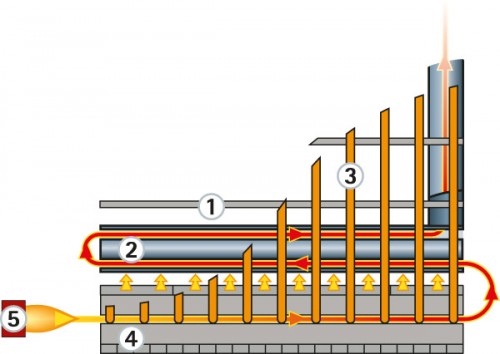 THE CONSTRUCTION
Stone baking plates (22 mm)
Steam units
Annular tubes
Refractory hearth
Burner
---
---

The advantages of the "ETOMATIK" control system
Large display for graphics and text (16 lines and 26 columns)
Easy handling through on-screen displayed instructions
As many as 99 baking programs
Weekly programming with 2 startup times per day
Clearly explained Error Messages
Serial interface for PC connection.
As option: Large remote display showing the temparature and the remaining baking time.
---
Advantages
Exceptional baking quality.
Lovely uniform, crunchy crust,tasty soft inside.
Longer lasting "fresh" appearance and taste of products.
Generalised use.
Successive batches.
"Gentle heat", even with a partial load.
Almost "indestructible" baking plates.
Top-quality finish.
Minimal maintenance costs.
Reduced energy consumption.
Ecologically sound, no immediate or future recycling problems.
24/7 after-sales service.
Spare parts and after-sales service at a very reasonable price.
Long-term partnership and collaboration.
---