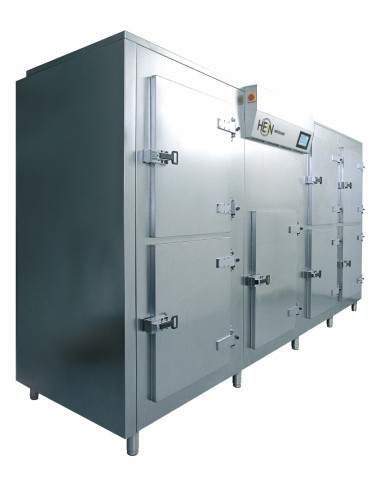 MODULUX, MODULAR REFRIGERATION TECHNOLOGY
A REVOLUTIONARY INSTALLATION

A decisive stage has been reached in refrigeration and storage technology.
The HEIN MODULUX cabinet is a recently developed concept for shock deep-freezing and the storage of doughs and pastries that meets all requirements.
This installation is of a modular construction and can be modified and added to as you wish. It is based on a shock deep-freeze module to which can be fitted, on the right side, up to five storage freezer modules. In addition, this installation can be completed, on the left side, with one or two refrigerated storage modules.
This installation provides the best refrigeration conditions for an effective deep-freeze process and optimum climatic storage conditions, i.e. conditions that yield the best quality of dough and pastries.
---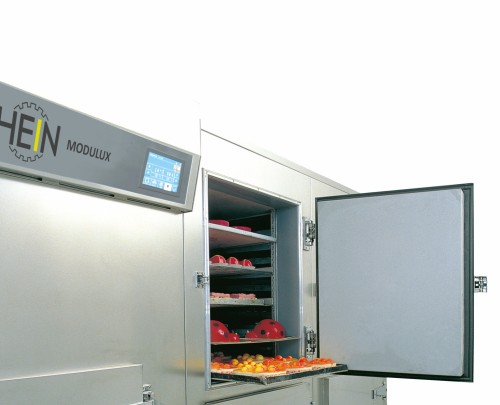 PID CONTROL:
The temperature and relative humidity are generally controlled by means of thermostats and a hygrostat.

The control process begins when the real value deviates ca. 10-15% from the reference value. We then get a roughly seesawed regulation curve.

The new PID control reacts already when there is a 1-2% deviation from the reference value. As a result, we obtain a slightly wavy control curve which is far closer to the desired linear reference value, i.e. excellent climatic conditions for the products.

This modern process control is the result of very extensive development work, because there is no "ready to use" PID. 
---
Advantages
PROVEN HEIN QUALITY (Technology and Service for the most demanding).
Practical modular design.
Record-setting shock deep-freeze modules: 50 kg of dough and/or 60-g pastries from +27 °C to -7 °C in 45 min. (!)
Per shock deep-freeze unit (-8 °C to -36 °C), up to 5 frozen storage modules (-2 °C to -22 °C) and up to 2 refrigerated cell modules (+3 °C to +12 °C).
Per module, up to 2 x 15 trays 600 x 800 mm (height adjustable in steps of 25 mm).
Interior and exterior entirely in best quality stainless steel (as is usual for HEIN ovens and proving chambers).
Intelligent and easy to use control computer. Innovative regulation technique, future-oriented and energy-efficient thanks to PID principle (Proportional - Integral - Differential).
Unequalled service life.
Reduced energy consumption thanks to excellent insulation (120 & 80 mm). Insulating material CFC-free.
High-quality, pre-assembled refrigeration unit (exterior or interior mounting) on a mounting bracket: compressor with enclosed motor, semi-hermetic, with vibration damper, condenser and recipient (refrigerant R404A).
Large surface area evaporator with airflow control in 200 steps (thanks to optimum matching of the compressor power to the surface area of the evaporator, drying out and/or loss of quality of the stored products are excluded!).
Fully automatic defrosting unit.
---