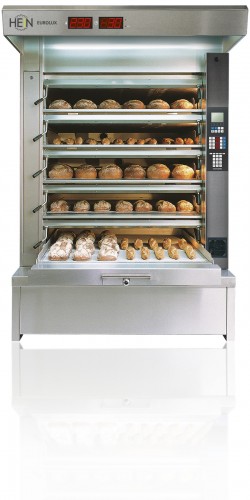 OVEN FIRED BY RECYCLING COMBUSTION GAS
(Baking surfaces of 4 – 25 sqm)
Oven fired by recycling combustion gas circulating in the heating registers between the different baking chambers. Gas or oil heating. The oven is characterised by great temperature flexibility.

Independent, totally sealed decks. Each deck has an extra-powerful steam device integrated into the body. The burner, turbine, electric panel and injectors are located at the front of the oven, so the oven can be built in on three sides. All the front panels and the patented loading doors are made of 2.5 mm stainless steel. Each deck has an overpressure valve which does not require any maintenance.

Flexible and economical. Individual temperature adjustments of 2 deck groups. The DUOTHERM system is characterised by the control of 2 individual deck groups. This means that the oven can be used with 2 different temperatures for baking 2 different products at the same time. A group of decks can also be "switched off" completely to save energy.

There is no temperature influence from one group to another..

The oven is controlled by a HEIN BAKMATIK computer.

A 100 cm deep stainless steel extractor hood with a very powerful extractor absorbs all the steam and heat when the doors are opened.

EUROLUX RECYCLING OVENS:
Clean energy, state of the art technology, easy handling
---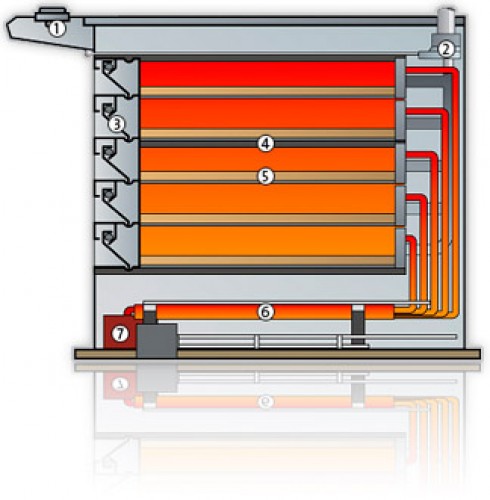 The operating principle of the EUROLUX
1. Stainless steel hood with extractor
2. Vents
3. Patented loading doors
4. Insulation of two temperature groups (Duotherm)
5. 20 mm refractory base plates
6. Steam devices
7. Burner
---
Advantages
 Exceptional baking quality. Fine, uniform crispy crust, flavourful soft part of bread.
 Long-term preservation of product freshness.
 Universal use.
 Successive loadings.
 Extra-powerful steam devices.
 Top quality finish.
 Virtually "indestructible" mobile hearths.
 Minimum maintenance costs.
 Reduced energy costs. 
---