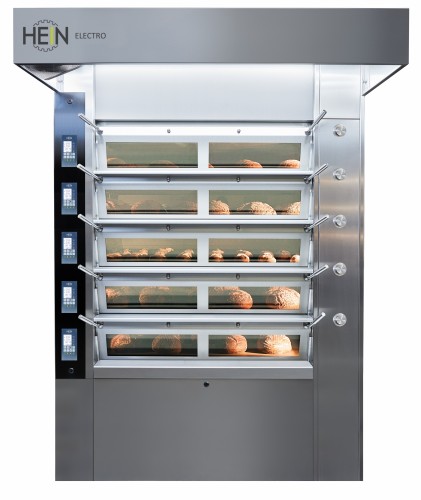 ELECTRO, AN OVEN HEATED BY ELECTRIC ELEMENTS
(baking surfaces of 3 – 23 sqm)

3, 4, 5, or 6 completely sealed decks which can be regulated independently (individual adjustment of the base plate and vault). Each deck has an extra-powerful steam device. The patented oven front and doors are built of 2.5 mm stainless steel. Each deck is fitted with an overpressure valve which does not require any maintenance.

A 100 cm deep stainless steel extractor hood with an extra-powerful extractor fan absorbs all the steam and heat when the doors are opened.
ELECTRO ELECTRIC OVENS: Clean energy, state of the art technology, easy handling.
---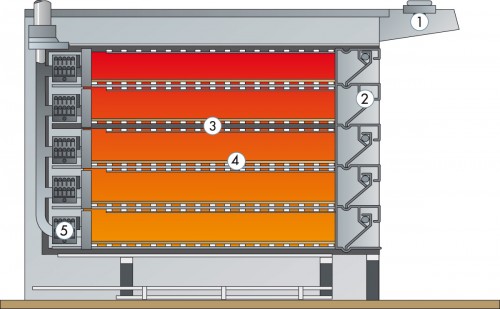 The operating principle of the ELECTRO
1. Stainless steel hood with extractor
2. Patented loading doors
3. Insulation of two decks
4. 20 mm refractory base plates
5. Steam devices
---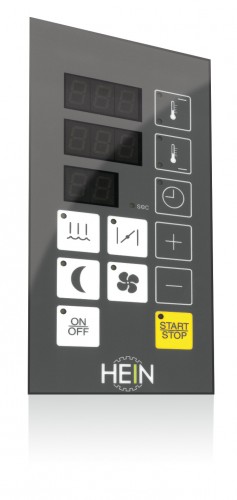 DIE STANDARDSTEUERUNG S1
Die typische Steuerung für einen elektrisch beheizten Etagenofen. Die groß dimensionierten digitalen Anzeigen ermöglichen eine praktische Handhabung der Etagen sowie das Lesen der Soll und IST Temperaturen sowie sämtlicher, von der Steuerung angezeigten, Daten.

Steuert die Schwadendauer und automatisches Öffnen und Schließen der Schwadenklappen (Zubehör).

Sie ermöglicht die automatische Überwachung und Steuerung des Backvorganges, der Backdauer sowie natürlich der Ober- und Unterhitze.

Der Nachtstart sowie die Hauben-Nachlaufzeit gehören zu den Basisfunktionen der S1 Steuerung.

Die S1 Steuerung hilft Ihnen Energie einzusparen: wird eine Etage während einem frei programmierbarem Zeitraum nicht genutzt (kein Backprogramm gestartet) lässt die Steuerung die Backtemperatur auf eine frei zu definierende Temperatur absinken.
---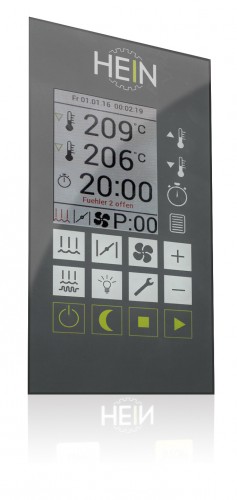 DIE S2 STEUERUNG (Option)
Im Vergleich zur S1-Steuerung ist die S2-Steuerung komplexer und verfügt über folgende zusätzliche Eigenschaften:
Speicherplatz für 99 Backprogramme zu je 30 Backschritten sowie natürlich die Möglichkeit eines komplett manuellen Backens.
Pro Etage je 2 frei programmierbare automatische Starts (Nacht- oder Tagesstart) auf 24 Stunden, 7 Tage die Woche
ECO-Funktion: wird eine Etage über einen frei zu definierenden Zeitraum nicht genutzt (kein Backprogramm gestartet) lässt die S2 die Etagentemperatur auf eine, im Vorfeld definierte Temperatur, absinken, bevor die Etage dann nach Ablauf einer vorbestimmten Dauer, abgeschaltet wird.
Möglichkeit jeden Schwadenapparat einzeln und individuell ein oder aus zu schalten.
Zeitlich versetztes Zuschalten der verschiedenen Heizwiderstände um Verbrauchspitzen zu vermeiden
Master-Slave Funktion welche das Abspeichern gleicher Backprogramme auf sämtlichen Steuerungen des Ofens ermöglicht.
Zusätzliche technische Parameter wie Sanft-Anlauf, Prioritätsschaltungen, Zeitüberwachung des Beheizen der Schwadenapparate, Sekundengenauer Zeitablauf der verschiedenen Parameter, usw. werden bei der Inbetriebnahme parametriert und abgespeichert.
---
Advantages
Baking chambers independent from each other in terms of temperature and steam.
Separate heat command at the top and bottom of each baking chamber.
Great flexibility for all your products.
Each baking chamber has its own extra-powerful steam device that can be heated separately (making significant energy conservation possible).
Every deck is equipped with a separate steamextractor.
Basic heat particularly adapted thanks to massive plates and a totally homogeneous heat transfer (formation of very fine bread crust).
Easy and intuitive handling of the oven.
Enhanced production safety and capacity to reproduce your quality standards.
The HEIN ELECTRO can be fit flush on three sides (option).
---