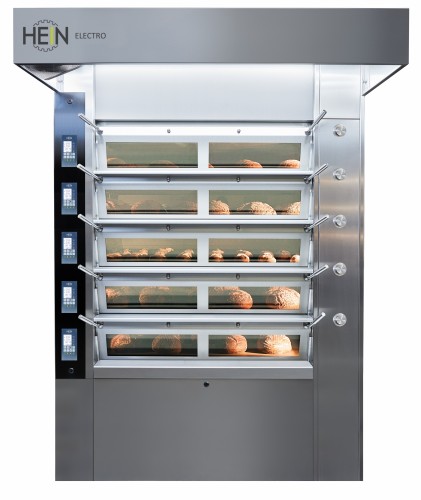 ELECTRO, AN OVEN HEATED BY ELECTRIC ELEMENTS
(baking surfaces of 3 – 23 sqm)

3, 4, 5, or 6 completely sealed decks which can be regulated independently (individual adjustment of the base plate and vault). Each deck has an extra-powerful steam device. The patented oven front and doors are built of 2.5 mm stainless steel. Each deck is fitted with an overpressure valve which does not require any maintenance.

A 100 cm deep stainless steel extractor hood with an extra-powerful extractor fan absorbs all the steam and heat when the doors are opened.
ELECTRO ELECTRIC OVENS: Clean energy, state of the art technology, easy handling.
---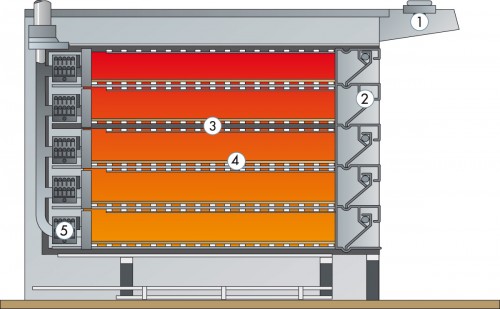 The operating principle of the ELECTRO
1. Stainless steel hood with extractor
2. Patented loading doors
3. Insulation of two decks
4. 20 mm refractory base plates
5. Steam devices
---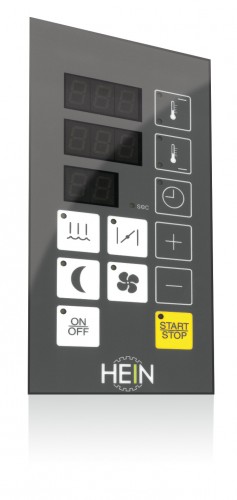 LA COMMANDE STANDARD S1
La commande traditionnelle pour un four électrique à étages. Des grands affichages digitaux permettent une manipulation facile des étages ainsi que la lecture aisée des températures consignées et mesurées et de toutes les informations affichées par la commande.

Temps de vaporisation et ouverture des ouras manuel.

Elle permet la surveillance automatique des cuissons, la durée de cuisson, ainsi que bien sûr, la température de la sole et de la voûte.

Le démarrage automatique (de nuit), la poste-ventilation du ventilateur de hotte, font partie des fonctions évidentes de la commande S1.

Après une durée (programmable) de non-utilisation d'un étage à température de cuisson, la commande laisse tomber la température de l'étage à une température prédéfinie, ce qui vous permet de faire une économie d'énergie.
---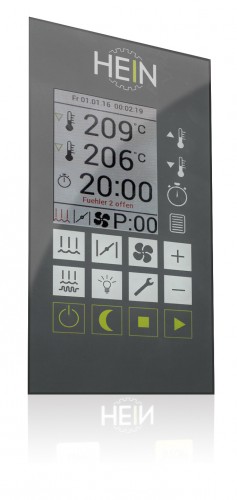 LA COMMANDE S2 (Option)
En comparaison avec la commande S1, la commande S2 est plus élaborée et dispose des propriétés supplémentaires suivantes :
Possibilité d'enregistrer 99 programmes de cuisson avec 30 pas par programme sans oublier la possibilité d'une  cuisson manuelle.
2 démarrages automatiques (nuit /jour) sur 24 heures et 7 jours.
Mode économique: après écoulement d'un temps pouvant être choisi librement, le four descend à une température enregistrée dans la commande, pour s'éteindre complètement après le découlement d'une deuxième minuterie.
Possibilité d'allumer/éteindre individuellement chaque appareil à vapeur.
Démarrage individuel et décalé des différentes sources chauffantes (sole / voûte / vapeur) pour une meilleure gérance de l'énergie tout en évitant des pointes de consommation électrique.
Fonction Master-Slave (pour enregistrer les mêmes programmes de cuisson sur la commande de chaque étage).
D'autres paramètres techniques tels le démarrage en douceur, les circuits de priorité, temps de surveillance du chauffage de l'appareil de vapeur, déroulement des paramètres à la seconde et d'autres sont programmés lors de la mise en service et pourront restés inchangés ensuite
---
Advantages
Baking chambers independent from each other in terms of temperature and steam.
Separate heat command at the top and bottom of each baking chamber.
Great flexibility for all your products.
Each baking chamber has its own extra-powerful steam device that can be heated separately (making significant energy conservation possible).
Every deck is equipped with a separate steamextractor.
Basic heat particularly adapted thanks to massive plates and a totally homogeneous heat transfer (formation of very fine bread crust).
Easy and intuitive handling of the oven.
Enhanced production safety and capacity to reproduce your quality standards.
The HEIN ELECTRO can be fit flush on three sides (option).
---